Driving can be challenging enough. Driving with a weak or even dead cell phone signal is even worse.
With all the functions a cell phone provides like voice calls, texting, traffic alerts, fleet telematics, mobile hot spotting and more, missing out on a reliable signal isn't much of an option.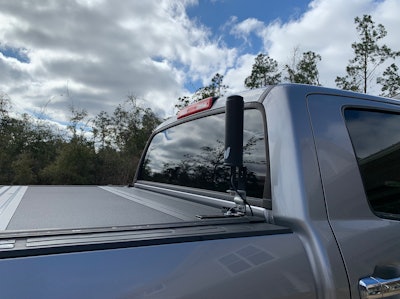 That's where cell a phone booster can help. We recently tested SureCall's Fusion2Go OTR booster here in Northwest Florida where signals can vary widely from great to absolute dead air. The result? SureCall did an impressive job of keeping us up and running among the trees, though getting there was a bit of a challenge.
SureCall promotes easy installation and it certainly can be given the right conditions. In this case, the Fusion2Go OTR kit includes an antenna mount that easily clamps onto the steel support bar of a truck's side mirror.
But that's it. If your truck's mirror is supported by one large arm, as is the case with newer model trucks from icons like Freightliner and Kenworth, then you're going to have to come up with another mount. For that matter, that's also the case for other trucks, including pickups, that do not have a side mirror support bar.
For my 2014 Toyota Tundra, I made a no-drill antenna mount behind the cab that was compatible with my hard tonneau. It turned out fine but it did take some planning and a few trips to the hardware store to pull it off.
Though taller is better when it comes to signal reception, I didn't want to mount the antenna above the cab where it would be buffeted by wind while traveling down the road and stress the mount. Thankfully, SureCall offers 16- and 32-inch antenna height options. I went with the 16-inch option and dropped it down another 3 ½ inches by omitting the spring. I could always add the extra height if needed which hasn't been the case so far.
If you're going to mount the SureCall antenna through something that's not grounded to the chassis, which is the case for my tonneau, just be sure to run a separate ground wire from the antenna mount to the chassis and test it for continuity to ensure a solid connection.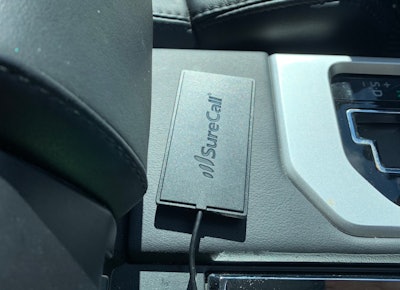 Don't worry about extra weight. The antenna is surprisingly light at about 15 ounces and measures only 9 inches tall with a 2 ½-inch diameter. However, if you want to reduce weight you can opt for an aluminum mount instead of the steel one that comes with the kit. SureCall uses the typical 3/8-inch 24 thread count common to CB antenna mounts so you can always choose another spring and mount if you like. Included with the kit is a small tube of Loctite 243 thread-lock adhesive.
After mounting the antenna, I ran the antenna's coax under the truck and secured it along the frame rail before running it through a rubber grommet on the floor about 10 inches in front of the right front seat. The small diameter of the cable (comparable to CB coax RG58) allows for an unnoticeable run under the carpet to beneath the right front seat.
In addition to the 10-foot long cable that comes attached to the antenna, SureCall includes a 5-foot extension for longer runs. I had to use both cables given a lengthy run from the bed to the front of the cab. The kit also includes additional coax connectors for additional configurations.
The amplifier only measures 4×5-x1 inches, which makes it fairly easy to conceal. After attaching the external antenna, I installed the amp under the right front seat. Another cable for a smaller antenna inside the cab (or multi-device patch antenna as SureCall calls it) attaches to the other side of the amplifier. The cable's 10-foot length and the antenna's small profile allows for installation nearly anywhere in the cab. Just keep in mind that the closer the patch antenna is to a phone, the better. Given that, I chose not to use the Velcro mount so that the antenna can be freely moved around inside the cab if necessary.
An easy power connection to the amp comes courtesy of a 12-foot long power cable, which simply plugs into a cigarette lighter outlet. A switch on the plug makes it easy to turn the amp on and off.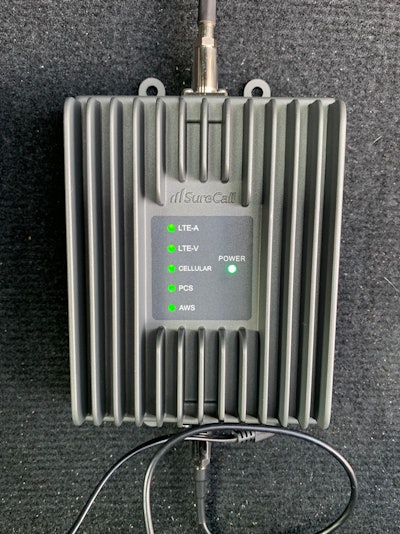 After that, it's time to flick the switch and see what happens. I tried out my phone first and saw the signal jump from to two bars to three. After I placed the phone on top of the patch antenna (it's about the size of three stacked credit cards), I got four bars, which is unheard of in our neighborhood.
Excited about my newfound power, I ran inside and recruited another phone user in our family to give it a try. Same results. Both phones held steady at three bars when held about three feet away from the inside antenna and went up to four when placed on the patch. Not bad!
To get a better idea of signal quality, I activated my iPhone's in-field service app by dialing *3001#12345*. Just know that once you dial that number, you may get different options depending on your carrier. With StraightTalk, a page pops up titled All Metrics. From there, I choose Serving Cell Info under the header RAT (Radio Access Technology). A long list of metrics pops up that mean absolutely nothing to me save for RSRP (Reference Signal Receive Power). RSRP indicates signal strength with negative numbers that, according to longtime wireless experts at Digi International, typically range from a good strength of -44dBm (decibel-milliwatts) to a horrendous -140dBm. In the case of the latter, you may be better off with two Dixie cups and a string.
Without SureCall, our cell phones at the house usually range between -100 and -123dBm.
Not so good. With the booster on, our best rating was -58dBm, a noticeable improvement.
As everyone knows, while out driving cell phone strength can get noticeably better and worse. It's a constant see-saw leaving most people familiar with areas that offer great coverage and those that don't.
Here in Northwest Florida, we still have dead zones though not nearly as bad as they once were. After driving around for about 75 miles, we consistently saw signal boosts of one and two bars in some areas that offered one or, in the case of State 20 just west of Bruce, nothing at all.
During a 550-mile round-trip from Panama City to Tuscaloosa this past week, most of which was done on two-lane highways amid scenic countryside, SureCall kept a signal despite the trees and rolling hills.
The best RSRP boost was an impressive 45dBM. Our best RSRP value remained at -58dBm. Keep in mind that we're not running the taller 32-inch antenna extension which could mean even better gains. However, there's no need for me to run the taller mast at this point.
Since I use my phone's mobile hotspot frequently to access the web while on the road, I gave my laptop a performance check using the booster. Playing high resolution video is usually a good indicator. In this case, I had no hiccups. Everything came through crystal clear.
SureCall suggests making a phone call in an area where you've typically run into signal problems. With the booster on, we didn't run into any phone or streaming issues in areas where we've frequently had connectivity problems.
SureCall offers support through its website, a toll-free number and an email address. Using the toll-free number, I got through right away to a helpful agent who submitted my question to tech support Monday morning regarding the availability of other antenna mounts. I was given the option of having tech support call or email with a response. I opted for email and got a message in the early afternoon. At this time they do not have alternative mounts for single arm mirrors but I'm sure you can get creative like me and find a way to make it happen.